1.3. Constructing NeXus Files and Application Definitions¶
In NeXus Design, we discussed the design of the NeXus format in general terms. In this section a more tutorial style introduction in how to construct a NeXus file is given. As an example a hypothetical instrument named WONI will be used.
1.3.1. The WOnderful New Instrument (WONI)¶
Consider yourself to be responsible for some hypothetical WOnderful New Instrument (WONI). You are tasked to ensure that WONI will record data according to the NeXus standard. For the sake of simplicity, WONI bears a strong resemblance to a simple powder diffractometer, but let's pretend that WONI cannot use any of the existing NXDL application definitions.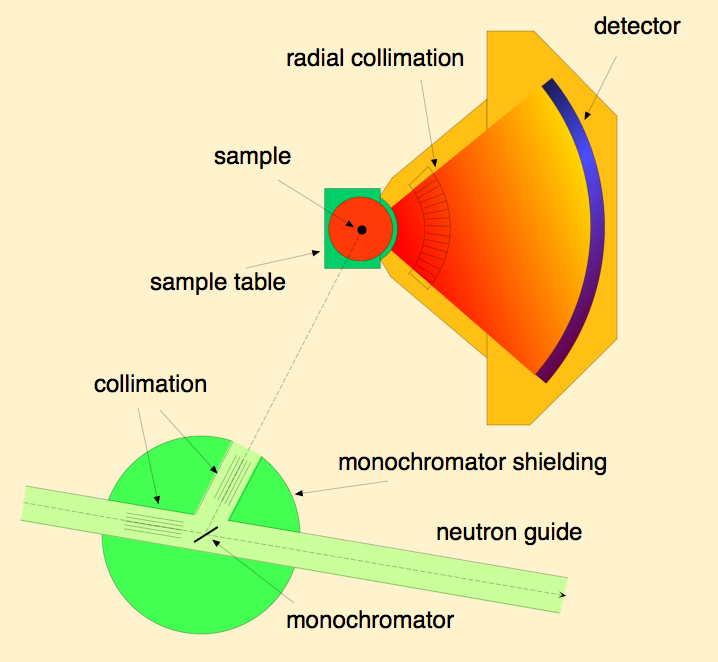 WONI uses collimators and a monochromator to illuminate the sample with neutrons of a selected wavelength as described in The (fictional) WONI example powder diffractometer. The diffracted beam is collected in a large, banana-shaped, position sensitive detector. Typical data looks like Example Powder Diffraction Plot from (fictional) WONI at HYNES. There is a generous background to the data plus quite a number of diffraction peaks.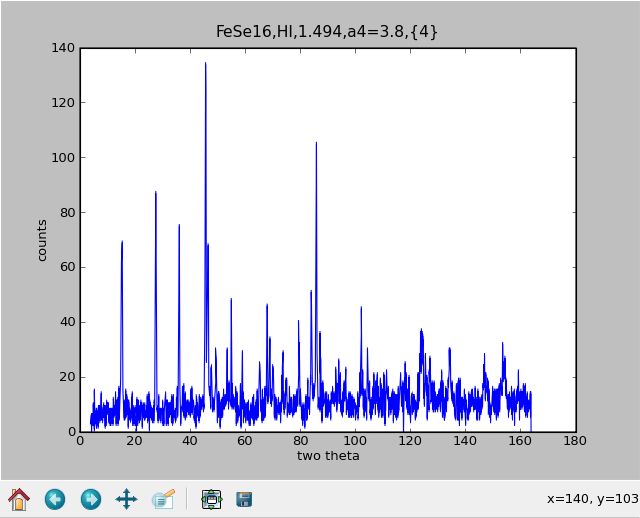 1.3.2. Constructing a NeXus file for WONI¶
The starting point for a NeXus file for WONI will be an empty basic NeXus file hierarchy as documented in the next figure. In order to arrive at a full NeXus file, the following steps are required:
For each instrument component, decide which parameters need to be stored

Map the component parameters to NeXus groups and parameters and add the components to the NXinstrument hierarchy

Decide what needs to go into NXdata. While this group is optional, you are urged strongly to provide an NXdata group to support default plotting.

Fill the NXsample and NXmonitor groups
Basic structure of a NeXus file
  entry:NXentry
    NXdata
    NXinstrument
    NXmonitor
    NXsample

1.3.2.1. Decide which parameters need to be stored¶
Now the various groups of this empty NeXus file shell need to be filled. The next step is to look at a design drawing of WONI. Identify all the instrument components like collimators, detectors, monochromators etc. For each component decide which values need to be stored. As NeXus aims to describe the experiment as good as possible, strive to capture as much information as practical.
1.3.2.2. Mapping parameters to NeXus¶
With the list of parameters to store for each component, consult the reference manual section on the NeXus base classes. You will find that for each of your instruments components there will be a suitable NeXus base class. Add this base class together with a name as a group under NXinstrument in your NeXus file hierarchy. Then consult the possible parameter names in the NeXus base class and match them with the parameters you wish to store for your instruments components.
As an example, consider the monochromator. You may wish to store: the wavelength, the d-value of the reflection used, the type of the monochromator and its angle towards the incoming beam. The reference manual tells you that NXcrystal is the right base class to use. Suitable fields for your parameters can be found in there to. After adding them to the basic NeXus file, the file looks like in the next figure:
Basic structure of a NeXus file with a monochromator added
  entry:NXentry
    NXdata
    NXinstrument
       monochromator:Nxcrystal
          wavelength
          d_spacing
          rotation_angle
          reflection
          type
    NXmonitor
    NXsample

If a parameter or even a whole group is missing in order to describe your experiment, do not despair! Contact the NIAC and suggest to add the group or parameter. Give a little documentation what it is for. The NIAC will check that your suggestion is no duplicate and sufficiently documented and will then proceed to enhance the base classes with your suggestion.
A more elaborate example of the mapping process is given in the section Creating a NXDL Specification.
1.3.2.3. Decide on NXdata¶
The NXdata/ group is supposed to contain the data required to put up a quick plot. For WONI this is a plot of counts versus two theta (polar_angle in NeXus) as can be seen in Example Powder Diffraction Plot from (fictional) WONI at HYNES. Now, in NXdata, create links to the appropriate data items in the NXinstrument hierarchy. In the case of WONI, both parameters live in the detector:NXdetector group.
1.3.2.4. Fill in auxiliary Information¶
Look at the section on NXsample in the NeXus reference manual. Choose appropriate parameters to store for your samples. Probably at least the name will be needed.
In order to normalize various experimental runs against each other it is necessary to know about the counting conditions and especially the monitor counts of the monitor used for normalization. The NeXus convention is to store such information in a control:NXmonitor group at NXentry level. Consult the reference for NXmonitor for field names. If additional monitors exist within your experiment, they will be stored as additional NXmonitor groups at entry level.
Consult the documentation for NXentry in order to find out under which names to store information such as titles, user names, experiment times etc.
A more elaborate example of this process can be found in the following section on creating an application definition.
1.3.3. Creating a NXDL Specification¶
An NXDL specification for a NeXus file is required if you desire to standardize NeXus files from various sources. Another name for a NXDL description is application definition. A NXDL specification can be used to verify NeXus files to conform to the standard encapsulated in the application definition. The process for constructing a NXDL specification is similar to the one described above for the construction of NeXus files.
One easy way to describe how to store data in the NeXus class structure and to create a NXDL specification is to work through an example. Along the way, we will describe some key decisions that influence our particular choices of metadata selection and data organization. So, on with the example …
1.3.4. Processed Data¶
Data reduction and analysis programs are encouraged to store their results in NeXus data files. As far as the necessary, the normal NeXus hierarchy is to be implemented. In addition, processed data files must contain a NXprocess group. This group, that documents and preserves data provenance, contains the name of the data processing program and the parameters used to run this program in order to achieve the results stored in this entry. Multiple processing steps must have a separate entry each.